I can't even comprehend that it is already March! Where has the year gone already? First things first, I apologise for being a pretty rubbish blogger recently. I was so proud of myself for keeping to a pretty good blogging schedule for the first month or so of the year and now I have ruined that already. I have to do placements as part of my university course and I just recently started one. As a result, I am doing three 12 hour shifts a week and one day at uni, while also having assignments due and other life things to take care of. I am exhausted and struggling to find time to fit in everything I need to do. I am trying my hardest to blog when I can but throughout the month of March I will probably be posting quite infrequently, just whenever I have a bit of spare time. Also, the content probably won't be the most imaginative or unique so I apologise for that as well. Once March is overwith I should be back to normal.
Anyway, back to my reading month in February. I only read 4 books in February, which isn't the best compared to the 8 in January. However, like I mentioned, I have been on placement so I haven't had much time to read. I would say it was a pretty average reading month. I don't think I'll be able to make up for it in March but I'm really hoping I can have a great April, we'll see.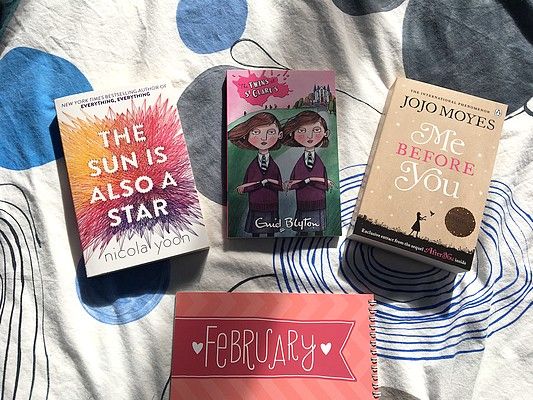 The Twins At St Clare's by Enid Blyton -
This is the first book in the St Clare's series. I started this series when I was younger and really loved it. It's a great boarding school series with a lot of fun and mischief. I got my hands on a box set of the series for pretty cheap so I have been wanting to reread and finish the series. I really enjoyed the first book, it's just as much fun as I remember. Obviously as these are aimed at children and I am in my 20s I'm not exactly the target audience, but I enjoyed it all the same.
Rating: 3/5
The Sun Is Also A Star by Nicola Yoon -
I had a strange relationship with Nicola Yoon's debut novel, Everything, Everything, in that I absolutely loved how it was written but the story fell flat. I was so excited to read her second novel, knowing that I loved her writing style so much. The Sun Is Also A Star follows a girl who is about to be deported back to Jamaica and a boy who she meets the day before she leaves. I wanted to love it but sadly I had the same issue as with her previous book. I loved the way it was written but wasn't a fan of the story itself. There was just too much instalove for me, and a few other things I had a bit of an issue with. It is definitely not a bad book, the story just wasn't for me.
Rating: 3/5 | Review | ATY Challenge: #8 Written by a person of colour
Me Before You by Jojo Moyes -
I had put off reading this for so long because the hype scared me off, as it so often does. I was desperate to watch the movie, as I love Sam Claflin, but just couldn't bring myself to read the book. I finally did it in February and I am so glad I did. I listened to this on audiobook and I really enjoyed it. I loved the characters, I thought Lou in particular was great. But more importantly, I think this book deals with a very important topic, and one that can bring about some important conversation. There is a lot of controversy surrounding this book, which I am going to talk about in an upcoming post, but I personally really enjoyed it.
Rating: 4/5 | Review | ATY Challenge: #3 Meant to read in 2016
All I Know Now by Carrie Hope Fletcher -
I absolutely love Carrie. I love her Youtube videos and can't wait to see her in The Addams Family musical this year. As a fan of hers, I of course wanted to read the first of the two books she has written. All I Know Now is a non-fiction book basically giving advice to teenagers with real-life examples of what Carrie has gone through. As much as a love Carrie, I really didn't like this book. I know I'm not the target audience but I don't even think I would have liked this as a teenager. I found it to be very preachy and as though Carrie was making herself out to be better than everyone else. I don't believe that is how she meant to come across but it felt a lot like that for me. I listened to this on audiobook which was narrated by Carrie herself and even got that impression from the narration. What I did love, though, was the audiobook extras, particularly the sibling tag with Tom.
Rating: 2/5
I am pretty proud to say that once again I have stuck to my 2017 goal of reading 5 books before I buy any more. I have decided to allow myself to buy two physical books after reading 5, although if I desperately want 3 I'm not going to be too strict on myself. In February I bought two physical books, was accepted for my first two eARCs on Netgalley (which I can't quite believe) and accidentally bought one eBook.
A Monster Calls by Patrick Ness -
This is one of the books for my Around The Year In 52 Books challenge that I didn't previously own. The movie trailer made me really want to read it.
By Your Side by Kasie West -
One of my most anticipated releases of 2017. Kasie West is one of my favourite authors, I can't wait to get to this one.
Windfall by Jennifer E Smith -
Another of my most anticipated releases of 2017, and the first ARC I was ever accepted for on Netgalley! Another one of my favourite authors so I can't wait to read this.
One Of Us Is Lying by Karen M McManus -
Another ARC from Netgalley. This synopsis sounds so intriguing, I'm so drawn in already. It sounds like a great mystery/thriller, which I'm really in the mood for just now.
Until Friday Night by Abbi Glines -
I accidentally bought this on my Kindle. Don't ask me how because I'm not entirely sure. Luckily it was one I wanted to read and only 99p.
Did you have a better reading month than me? Did you have any great 5 star reads? Did you get your hands on any books you were super excited for?
Sophie :)