Now that March is coming to an end, so is my crazy busy time. I have placements as part of my university course and my current one has taken so much of my time but now that it is coming to an end, I can finally start reading again. To celebrate the fact that I'll be having time to read again, I decided to take part in a readathon I discovered on Instagram.
Lavidaenquotes
and
Alyaofwinterfell
are hosting the Forgotten Shelves readathon from April 3rd-9th. This readathon focuses on the neglected books on our shelves that have been sat there for an eternity just waiting to be read. I have plenty of them so this readathon seemed like a perfect one for me. There are four challenges, which is great as I love challenges within readathons. I am hoping to complete all four but I am very doubtful about one in particular.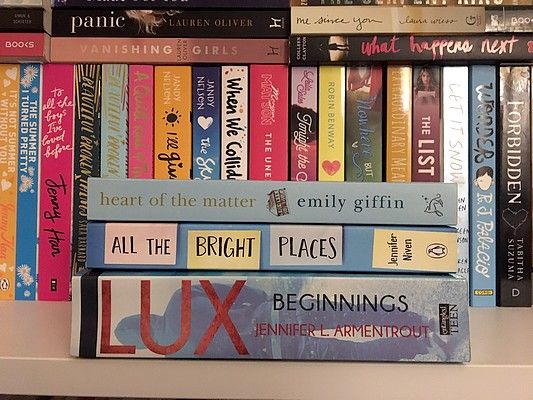 Obsidian by Jennifer L Armentrout -
Challenge: Out of your comfort zone
The Lux: Beginnings bind up of the first two books in this series has been on my shelves since I picked it up in New York in January 2015! I has been so excited to read this series for the longest time but for some reason I have never picked it up. This is out of my comfort zone as I very rarely read paranormal romance, I think maybe the Twilight series is the only similar thing I have read. I definitely don't read about aliens so I'm not sure how I'll feel about that aspect.
The Great Gatsby by F Scott Fitzgerald -
Challenge: A Classic
This is the one challenge I am doubtful that I will complete. I know I should read more classics but I never have the desire to pick them up. The Great Gatsby is the only classic I currently own and as it is one of the books I plan to read for the Around The Year In 52 Books challenge this year, I need to get to it eventually. Hopefully I can get to it during the readathon.
The Heart Of The Matter by Emily Giffin -
Challenge: A Benchwarmer
The 'benchwarmer' challenge is a book that has been on your shelves for over a year. The Heart Of The Matter has been on mine for at least 5 years! I know I want to read it, and have wanted to for all the years I have owned it, but there's always been something I want to read before it. I will read this book soon so why not during the readathon.
All The Bright Places by Jennifer Niven -
Challenge: TBR Runaway
For this challenge, you choose a book that has previously been on a monthly TBR but you never got around to reading. I have so many options for this so I may change my mind but this is the one I'm most interested in at the moment. Although I have stopped posting TBR's on my blog, I do have a list of a few books each month that I would like to get to and this has been on that list several times recently. All of the other books on my TBR could count for this challenge so if I run out of time I can combine challenges.
As well as the four book that meet the challenges, I have some other books I plan to read during the week of the readathon that do not fit the challenges. The other books I hope to read are Flawed and Perfect by Cecelia Ahern. Flawed is a re-read and I will definitely be reading Perfect as soon as my pre-order comes through my door.
Are you taking part in this readathon or any other readathons in April?
Sophie :)