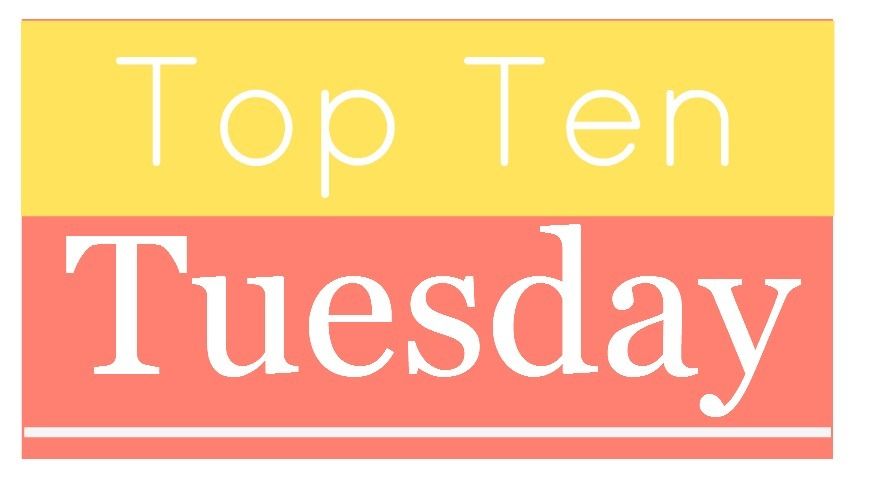 Top Ten Tuesday is an original feature/weekly meme created at
The Broke And The Bookish
. Lists galore, I can think of nothing better!
In case you're wondering, I do know my days of the week I'm just failing at blogging at the moment. This week's Top Ten Tuesday (on a Wednesday) theme is the top ten books on my Spring TBR. I mentioned in my February wrap up that I didn't think I would be able to read anything in the month of March because I'm so busy, and so far I would be correct in that assumption. However, once April comes around I will be making up for my awful reading month and reading all of the books. These are the books at the top of my list.
1. Perfect by Cecelia Ahern
This is my most anticipated book of the year and it will be in my hands on April 6th (fingers crossed Amazon doesn't mess up again) and I'm so excited to read it. This is the sequel to Cecelia Ahern's YA debut novel Flawed, which I absolutely loved. This is a dystopian duology basically based on societies perception of being perfect.
2. Windfall by Jennifer E Smith
This is another of my most anticipated books of the year. I received a copy of this from Netgalley and it is published in May. Jennifer E Smith is one of my favourite YA contemporary authors and this sounds like it will be just as good as her other books. It is about a girl who buys her best friend and crush a lottery ticket on his 18th birthday and he ends up winning $140million. They then have to deal with everything that brings, including problems between the two of them.
3. One Of Us Is Lying by Karen McManus
I was also lucky enough to receive a copy of this from Netgalley as well. I hadn't heard much about this one but as soon as I read the synopsis I knew I had to read it. This is a YA mystery/thriller about five high school students who get detention but only four of them come out alive. That sounds like exactly what I'm in the mood for right now.
4. Cinder by Marissa Meyer
I don't know how many TBRs I've mentioned this book in but I really want to finally read it in the next few months. I have been wanting to start this series for the longest time, and have had Cinder on my bookshelves for a good couple of years now, but for some reason I just never pick it up. It will happen this Spring...hopefully.
5. City Of Ashes by Cassandra Clare
It's been almost a year since I read City Of Bones and I really enjoyed the first book so I don't know why it has taken me so long to pick up the second. I know I want to read it soon, hopefully in the next couple of months, so that I can continue on with the rest of the series.
6. Frostbite by Richelle Mead
Along the same lines as the last one, it's been almost 2 years since I read Vampire Academy! I enjoyed the first book and definitely want to continue on with the series soon. I don't remember much about Vampire Academy though, so I will probably have to reread that first. I'm really in the mood to do that actually so I'm not complaining.
7. Breaking The Rules by Katie McGarry
This is book #1.5 in the Pushing The Limits series that I started in January. I loved the first book and I'm aiming to read the whole series this year, although I am really bad at reading series as you can probably tell by the previous books. I love that this is a full length novel and the fact that it follows Echo and Noah again makes me all the more excited to read it.
8. A Colleen Hover book
I now own 4 of Colleen Hoover's books but have read none. I have wanted to read something by her for so long but it hasn't happened yet. It definitely needs to happen soon but I'm not really sure where to start. I've heard a lot of praise for her most recent release, It Ends With Us, which is one of the ones I own so I may start with that one.
9. Heart Of The Matter by Emily Giffin
I have had this book on my shelf for probably about 5 years, maybe more. It is ridiculous that I haven't read it yet, especially since I know I definitely want to. I'm making a real effort to get to this book as soon as possible, it'll hopefully be the next book I pick up once I finally have some reading time to finish the two I'm currently reading.
10. Life And Death: Twilight Reimagined by Stephenie Meyer
I feel a Twilight reread coming on. I haven't reread it for a couple of years now but it needs to happen soon. I've heard so many people complain about the reimagined version because it is apparently the same but with the names changed, however I figured that might not be too bad if all I'm wanting is a reread. We'll see how I feel about it.
Those are the top ten books on my Spring TBR. Knowing me I'll probably be lucky if I read one or two of them as I can't seem to stick to TBRs, hence why I have stopped making monthly TBR posts. I definitely want to get to all of these soon though.
What books are you wanting to read this Spring? Also, what Colleen Hoover book should I pick up first? I could definitely do with suggestions there.
Sophie :)