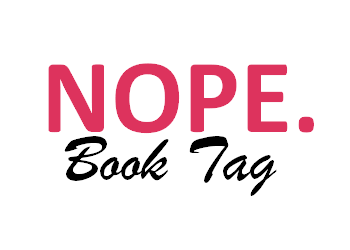 All the tags I ever seem to do on here are pretty positive, which I guess is a good thing as I obviously want to promote all the great books. However, every now and then it's fun to do something a little different. As soon as I saw this tag on booktube, created by
A Booktube Book
, I knew I had to do it. This looks so much fun and is a bit different for me as it is kind of negative.
1. NOPE. Ending: A book ending that made you go NOPE either in denial, rage, or simply because the ending was crappy.
The Crown by Kiera Cass - I was completely in denial over that ending, in my head it ended differently and my ship lived happily ever after.
2. NOPE. Protagonist: A main character you dislike and drives you crazy.
Amy Dunne from Gone Girl will always be my most hated character. I mean, I know that's pretty much the point of the book but I just could not stand her at all.
3. NOPE. Series: A series that turned out to be one huge pile of NOPE. after you've invested all of that time and energy on it, or a series you gave up on because it wasn't worth it anymore.
The Shopaholic series by Sophie Kinsella - I know so many people love this series but I just wasn't a fan of the first book and won't be spending any more time on this series.
4. NOPE. Popular pairing: A "ship" you don't support.
I almost always seem to support the popular ships. I guess I would have to say Eadlyn from The Heir and The Crown by Kiera Cass and the person she ends up with.
5. NOPE. Plot twist: A plot twist you didn't see coming or didn't like.
There's a plot twist in The One by Kiera Cass that I just did not see coming at all. I was in complete shock and pretty much cried for the rest of the book after that.
6. NOPE. Protagonist action/decision: A character decision that made you shake your head NOPE.
I want to say America Singer but I've answered almost every question with something related to The Selection so I'll go with someone else. A lot of decisions Cath made in Fangirl by Rainbow Rowell had me shaking me head.
7. NOPE. Genre: A genre you will never read.
I'll never completely rule anything out but I'm scared to give horror a go.
8. NOPE. Book format: Book formatting you hate and avoid buying until it comes out in a different edition.
I don't really have an answer for this one. I guess if the cover is really ugly I'll wait until it comes out in a different edition or get the ebook so I don't have to look at the cover, does that count?
9. NOPE. Trope: A trope that makes you go NOPE.
Best friends falling out over a guy or something equally stupid. The first half of the book is spent talking about how two girls have been best friends and inseparable for years and then all of a sudden a guy comes along and they have an almighty fall out over nothing and don't speak to each other for months. Just no.
10. NOPE. Recommendation: A book recommendation that is constantly hyped and pushed at you that you simply refuse to read.
Lord Of The Rings by JRR Tolkein - This isn't really a book/series that is constantly recommended to me but it is very popular and has been recommended to me a few times. I just don't think it's my kind of thing so I will probably never read it.
11. NOPE. Cliche/pet peeve: A cliche or writing pet peeve that always makes you roll your eyes.
I can't stand text speak! The only person I know who still uses text speak is my grandmother so why do they still use it in books?
12. NOPE. Love interest: The love interest that's not worthy of being one. A character you don't think should have been a viable love interest.
Jacob Black from the Twilight seres by Stephenie Meyer. Don't get me wrong, I loved Jacob as a character, I just never seen him as a viable love interest. He was always the friend and I think it should have stayed that way.
13. NOPE. Book: A book that shouldn't have existed that made you say NOPE.
Nineteen Minutes by Jodi Picoult - I really hate that book.
14. NOPE. Villain: A scary villain/antagonist you would hate to cross and would make you run in the opposite direction.
Dolores Umbridge from the Harry Potter series by JK Rowling. That woman terrifies me.
15. NOPE. Death: A character death that still haunts you.
My favourite Harry Potter character dies in Order Of The Phoenix and I wasn't prepared!
16. NOPE. Author: An author you had a bad experience reading for and have decided to quit.
I rarely decide never to read something from a specific author after disliking a book but I would probably have to say Nicky Schmidt. I read Naked In Knightsbridge in 2014 and really didn't like it, I now just don't have any desire to read anything else from her.
That wasn't quite as negative as I expected it would be but still fun to do. Do you agree with any of my answers?
Sophie :)