I can't believe it's already time for the first wrap up of the year. I have had a great reading month in January, so I'm already liking 2017 better than 2016, and have found myself enjoying reading much more than I have done for the last while. I've decided since I'm hopefully going to be reading more in a month, and not buying enough books to do a separate haul, I won't be continuing with my 'life' and 'watched' sections, just because I don't want this post to be too long. I have an idea for a separate film/TV related series I would like to do so you can let me know what you think of that when the first one appears soon. For now though, lets get to the books I read and bought in January.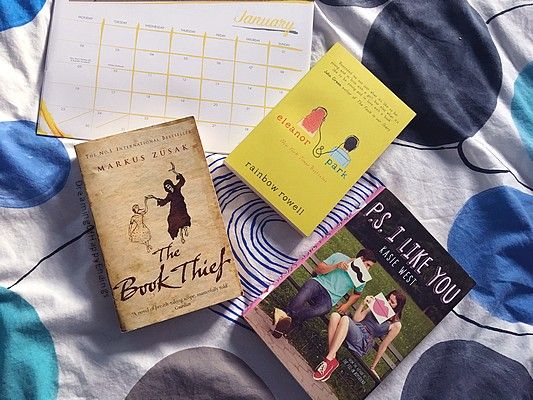 The Book Thief by Marcus Zusack -
I have finally read this book! It has been on my TBR for longest time and was one of those books that I felt bad about having not read so I decided to finally pick it up. This definitely lived up to the hype. I thought it was a very unique, impactful book that discussed some very thought-provoking and important issues, specifically what life was like as a German during the Second World War. I don't read historical fiction, this was my first, but it is not a genre I'm looking into more because of this book. I thought the idea of having Death as the narrator was very interesting but I did have a few very minor issues with this book, which you can read about in my review.
Rating: 4.5/5
|
Review
|
ATY Challenge: #5 A historical fiction
Pushing The Limits by Katie McGarry -
This is another one I have been meaning to read for a while and finally got around to it. This is the first book in the contemporary companion series and this first book follows Echo and Noah, two high school students with some difficult personal issues to work through. I enjoyed this way more than I expected to. I loved the characters as well as the various layers to the plot. I liked that there was a lot more to this story than the romance and really enjoyed reading about those other aspects. You can find out more of my thoughts in my review.
Rating: 4/5
|
Review
|
ATY Challenge: #30 From Goodreads Top 100 YA Books
No-One Ever Has Sex In The Suburbs by Tracy Bloom -
This is the sequel to
No-One Ever Has Sex On A Tuesday
, a book which I read back in 2014 and really enjoyed. Unfortunately, the sequel was a disappointment for me. It follows the characters from the first book after they have had their babies, and the problems that come with being first time parents. I just had too many problems with this book, which I discuss in detail in my review, to really enjoy it. It was a quick read and did have the same humour as the first book but I just didn't like the characters or the plot.
Crossing The Line by Katie McGarry -
As soon as I finished Pushing The Limits I wanted to continue on with this series so I bought the first novella in the series as soon as I could. This is the story of Lila, Echo's best friend, and a boy called Lincoln, who she has been writing letters back and forth with for a couple of years. I liked this, I thought it was a decent novella. It wasn't really anything special and didn't add much to the series, but it was fun. I had a few problems with the plot - it was a bit immature and didn't focus on what I would have liked it to - but nothing major.
Rating: 3/5 | Review To Come
PS I Love You by Cecelia Ahern -
I have been listening to this on audiobook since June 2016! It's ridiculous that it has taken me this long but I kept having to start again with it because I had forgotten to listen to it. Cecelia Ahern is one of my favourite authors and this is her first published novel. It's about Holly whose husband Gerry has recently died but has left her letters to help her through her grieving process. I have watched this film so many times that I knew the story well but I did still enjoy the book, though possible not as much as if I had read the book first. I really like the story and the unique take on losing a loved one and dealing with grief. I had a few problems with some of the characters at times but overall I enjoyed it. It is probably my least favourite of Cecelia Ahern's books that I have read so far.
Rating: 4/5 | Review To Come | ATY Challenge: #27 By a favourite author
PS I Like You by Kasie West -
There seems to be a letter theme running through my January reads, it wasn't intentional. Kasie West is another of my favourite authors so I knew I was going to love this book. This is about Lily who writes the lyrics to a song on her desk while bored in Chemistry one day and the next day realises someone has written the next line of lyrics, which starts an anonymous pen pal relationship. This was just as cute as I would expect from a Kasie West book. I loved the characters and the relationship was adorable. It took me a little while to get invested in the story, especially as I had worked out who the letter writer was really early on. Once I got into the story, though, I was completely obsessed.
Rating: 4/5 | Review To Come | ATY Challenge: #1 From the Goodreads Choice Awards 2016
F In Exams: The Big Book Of Test Paper Blunders by Richard Benson -
This was just a fun little book that I picked up on a whim. It's full of funny exam answers and it was so much fun to read. I love finding these kinds of things online so to have a whole lot of them in one book was great. I really enjoyed just picking this up when I wanted a laugh.
Rating: 3/5
|
ATY Challenge: #17 Book with illustrations
Eleanor & Park by Rainbow Rowell -
I wanted so badly to love this book. Everyone seems to love it and I have really enjoyed everything else I have read by Rainbow Rowell but unfortunately I really didn't like this book. I thought it was quite boring and I didn't connect with any of the characters. Everyone raves about the characters and their relationship and I disliked the relationship so much that I started to wonder if I was reading a different book from the rest of the world. I have definitely read worse books, but I expected so much more from this and ended up disappointed.
Rating: 2/5
|
Review To Come
|
ATY Challenge: #2 With at least 2 perspectives
If you have seen my 2017 goals post, you will know that I am challenging myself to read 5 books before buying any physical books. I am allowing myself to buy ebooks but only if they are on offer or I know I will read it immediately. In the month of January I read 7 books and one novella, meaning I was able to do some book buying. I was very good and only bought two physical books! However, I did treat myself to a few ebooks as well.
Confess & It Ends With Us by Colleen Hoover
- I know I want to finally read a Colleen Hoover book this year so when I saw these two on offer on Kindle for 99p, I couldn't pass them up. I now have 4 Colleen Hoover books to choose from this year so I have no excuse not to read one.
Beautiful Disaster by Jamie McGuire
- I saw this one on offer on Kindle for 99p as well so I decided to pick it up. I want to read more New Adult this year and this is a pretty popular one, although I don't know much else about it.
What was your favourite thing you read in January? Did you get your hands on any exciting books?
Sophie :)