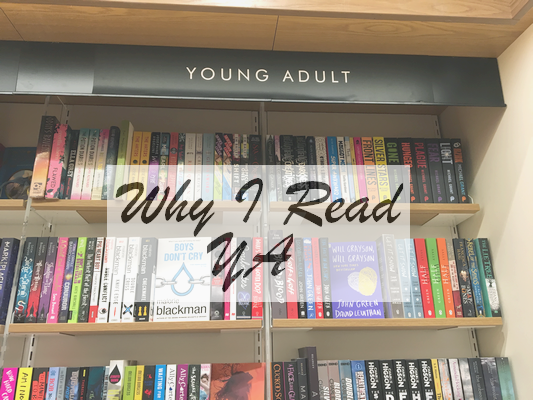 I was standing in the YA section of a bookstore when I was asked a question that really challenged me. A member of staff approached me and, since it was the middle of the day on a weekday, asked "should you not be at school?". I don't look anywhere near my age so I get questions like that a lot. When I responded, as I always do, with "no, I'm 22!", he looked up at the sign stating 'Young Adult' then asked "if you're 22, why are you reading kids books?".
I haven't thought a lot about why, as a 22 year old, the majority of the books I read are targeted towards a younger audience. As far as I'm concerned, I read the books I read because that's what I like. However, when directly asked I was challenged to think about why exactly I do read YA. I have decided to share the answer I gave that stranger in a bookstore questioning my taste in books.
The majority of adult books are about, specifically chick-lit as that is what I read most in adult books, are about people in their late 30s/40s who are married/divorced/desperately trying to find a man before it's too late and have however many kids. I am in my 20s, single and without kids, I can't relate to their experiences.
YA books, on the other hand focus a lot on teenagers in high school. They deal with discovering yourself, experiencing love for the first time, coping with your first heartbreak. I have been a teenager, I have fallen in love and had my heart broken. I have been through a lot of the experiences the characters are going through and can relate to how they are feeling or reacting.
Of course there is New Adult as well, but something I have been noticing recently is that I can't seem to find any NA books in bookstores. I have to buy my NA books online or as an ebook. So when it comes to bookstore browsing I spend much of my time in the YA section.
So why do I read YA? Well other than the fact I enjoy it, I guess I read YA because I can relate to it more than I can adult books.
Why do you read YA?
Sophie :)