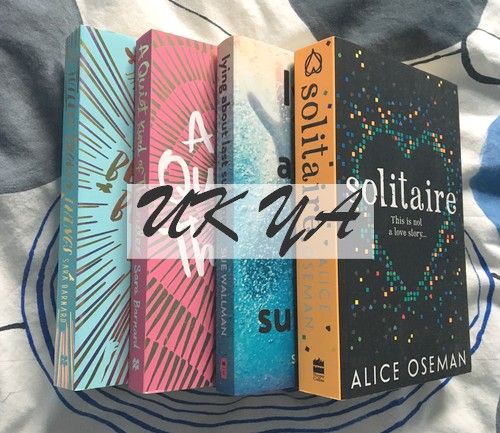 Towards the end of 2016, I decided to take a look at the books I had read throughout the year in a bit more detail. I looked at my most read genre, what year the most books were released, whether I read more books from male or female authors, and other similar statistics. One thing that I found particularly interesting was the country in which the author was born or currently resides.
I read a total of 36 books in 2016 and I was shocked to discover I only read books from 5 British authors! To add to the shock, as someone who read predominantly YA, I only read 3 YA books from UK authors - the last two Harry Potter books and Lying About Last Summer by Sue Wallman. Being from the UK myself, should I not be reaching for book written by UK authors first? Should I not be supporting the authors from my own country?
I'll be honest and admit that I really didn't think about where the author was from before picking up a book I wanted to read before now. I have always just thought that I should read whatever I fancied reading, which I would still say is true to an extent. Throughout 2016, and very much so at the beginning of this year, there has been a lot of talk about reading more diversely. Almost all of the blog posts and booktube videos about 2017 reading goals that I have come across have mentioned wanting to read more diversely this year. Seeing a lot of people talking about wanting to read books from authors from countries other than their own really got me thinking. While I think it's great to want to read more diversely, and more specifically thinking about reading books by authors from all over the world, I think it's very important for me at the moment to be supporting those authors from my own country who I appear to have been neglecting.
When looking into this topic, I came across a weekly (I think?) twitter chat hosted by Lucy from
LucyTheReader
that focuses solely on UKYA. This twitter chat (#UKYAChat) is basically just a chance to discuss and spotlight YA books and new releases by UK authors, and even by just scrolling through the twitter hashtag I discovered a lot of book I had never even heard of before. I now have a whole list of books added to my TBR, I even discovered a Scottish author that I really want to check out now.
I have decided to make UKYA more of a priority in my reading life this year to show my support for UK authors. As I mentioned, I do have quite a few books I am planning to read but I am definitely looking for recommendations if there are UKYA books that you love and think I need to read. If you have any Scottish YA author recommendations that would be even more amazing!
I apologise if this was a pretty rambly post, it was more just me wanting to get my thoughts down than a well-structured discussion post. I'm not the most concise, I must admit.
Sophie :)