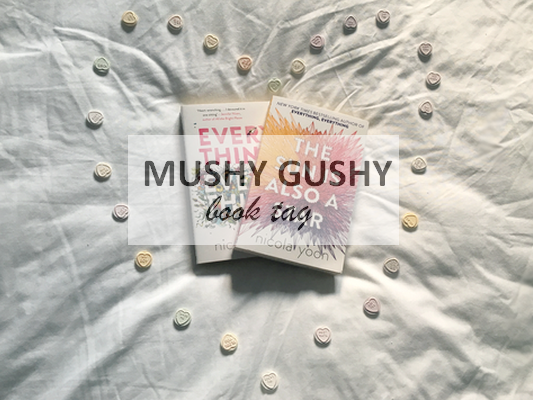 Continuing on with the theme of Valentine's Day, that seems to have taken over the blog this week, the Mushy Gushy book tag seems like the perfect Valentine's Day tag. I think this tag came about this time last year so I'm a little late to the party. It was created by
SimplyABookLover
on Booktube.
Valentines - A book with pink, red and white on the cover
PS I Like You by Kasie West - So there's only a little bit of each but we do have pink & white on the card and in the title, and red shoes.
Sweethearts - A book with the best pickup line
I honestly don't remember any good pickup lines in books! I obviously haven't read a good enough pickup line to remember it.
Chocolate Covered Strawberries - Favourite book couple
Isla and Josh from Isla And The Happily Ever After by Stephanie Perkins. Do I mention them enough?
Roses - Most romantic book couple
Lauren and Dean from Ignite by Lily Paradis - Everything Dean does for Lauren is just so romantic! I mean we all need a surprise trip every now and again.
Teddy Bear - A book that makes you want to snuggle with someone
Me Before You by Jojo Moyes - I just recently finished this book and it definitely made me want to snuggle with someone...like my dogs.
Candle Lit Dinner - A book that you'd take out on a date
Does this mean because it looks so good? Because that would have to be What Light by Jay Asher.
Pizza - Best book for single people
For this I would have to say Where Rainbows End (Love, Rosie) by Cecelia Ahern. This is great for the single people like me who are happy with being single but it also shows those who aren't happy with their single life that soulmates will find each other eventually.
That was the Mushy Gushy Book Tag - perfect for Valentine's Day week. Do you recommend any books with great pickup lines? I feel like I need to pick some of them up now!
Sophie :)