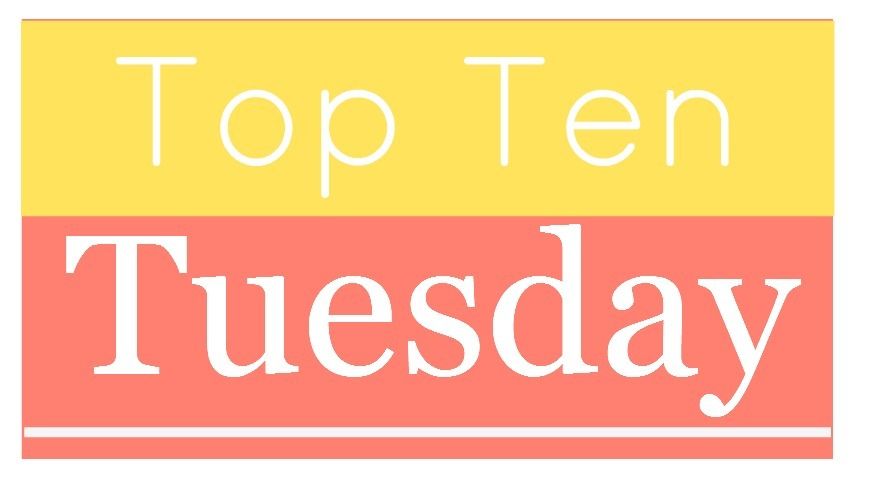 Top Ten Tuesday is an original feature/weekly meme created at
The Broke And The Bookish
. Lists galore, I can think of nothing better!
It has been way too long since I have done a Top Ten Tuesday but I'm excited to get back into it. This week's theme was a freebie and since I have been talking a lot about my 2017 goals recently, I thought I would continue the trend and talk about the series I want to start/finish/continue with this year.
To Finish:
1. The Percy Jackson series by Rick Riordan
I own all of these books and have read, and enjoyed, the first two but have yet to get around to the next three. These are pretty short and very fast-paced so I know I can fly through them all and get them done this year if I make the effort.
2. Flawed duology by Cecelia Ahern
I read and absolutely adored the first book in this series last year and the conclusion Perfect is my most anticipated release of the year. I have no doubt I will finish this series this year, unless of course Cecelia Ahern decides to continue with the series but I think that's unlikely
3. Unwind dystology by Neal Shusterman
I read the first two books in this series a few years ago and have been saying I'll finish the series for the past couple of years. I now own book 3 so I feel like I at least need to read that this year, but hopefully I can finish it as I really loved the first two.
4. Summer trilogy by Jenny Han
This is a bit different as this series I just want to finish to get it off my shelf. I have read the first one and didn't love it, it was pretty average. Maybe this series will get better but I just want to get it finished as I have had the three book bind-up on my bookshelf for so long I'm fed up looking at it.
To Continue:
5. The Mortal Instruments series by Cassandra Clare
I finally read the first book in this series last year and loved it so I want to continue this year. I would love to be able to finish it this year but I don't think that'll happen. I would like to at least read books 2 & 3.
6. Vampire Academy series by Richelle Mead
I read book one a couple of years ago and really need to continue. I really enjoyed book one and I know that these books are really quick to read so I don't know why I haven't continued yet. Again, I would like to read at least books 2 & 3.
To Start:
7. The Infernal Devices trilogy by Cassandra Clare
This is probably the only series that I'm justified in not having yet started. Obviously there is a specific order that it is best to read all of the Shadowhunters books in and, according to Goodreads, it is best to read book 1 of TID after reading the first 3 TMI books. So that is the plan for this year.
8. The Lunar Chronicles by Marissa Meyer
I know, I've been saying I plan to read this every year for the past three years but I definitely have great plans to read at least the first book in the series this year. I don't know why I haven't gotten around to it yet!
9. The Lux series by Jennifer L Armentrout
This is another series I have been wanting to read for a good while and just haven't yet. The bind-up of the first two books is the only book I own that fits one of my Around The Year In 52 Books categories so I'm hoping that will mean I have to read the first two books this year.
10. Pushing The Limits series by Katie McGarry
I am slightly cheating with this one because I have actually already started this series as I read the first book at the very start of the year. Since I planned to start it in 2017 and did, I'm still counting it for this list. This is a series that has been on my TBR for years.
Those are my series reading plans for 2017, although there is a good chance I won't get to about half of these. I am going to try and make a conscious effort to get through these but we will see how I get on. What series are you really wanting to read this year?
Sophie :)