Every year in January I see so many blog post and youtube videos discussing a varying number of favourite books of the year. I don't think I have ever done this any other year but I decided since I have been so negative about my reading year in 2016 it would be good to be positive. So rather than complain about not reading much in 2016, today I thought I would share my top 8 books I read in 2016 (this started as 5, I just couldn't narrow it down - oops!).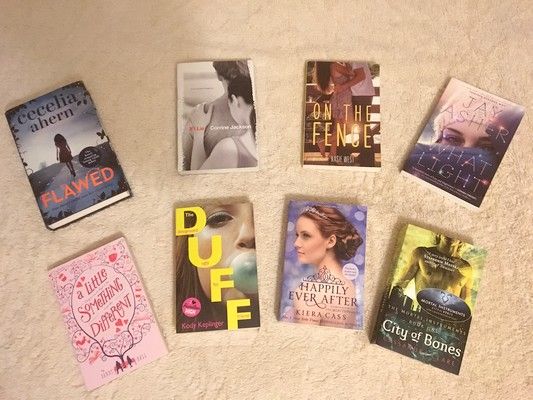 Flawed by Cecelia Ahern - My favourites of the year are pretty much in no particular order but this is the exception. Flawed is definitely my favourite book I read this year and was the only book, other than one re-read, I gave 5 stars to. I adore Cecelia Ahern and have loved everything I have read by her but I was unsure about her first foray into YA. This is the first book in a dystopian duology about a world in which anyone who is not 'Perfect' is branded as 'Flawed' and treated poorly in society. I loved this concept and thought it was executed perfectly, with some really great characters.
If I Lie by Corrine Jackson - This was one of those books I picked up completely on a whim and was so pleasantly surprised by it. This is about a girl who is caught cheating on her military boyfriend and is basically shunned by her entire community, however it's not all as it seems but to explain she would need to share a secret she is keeping for her boyfriend. This was a really heartbreaking and although I had a few issues with a couple of things, that didn't spoil my overall enjoyment of the book.
On The Fence by Kasie West - I read The Distance Between Us by Kasie West in 2015 and loved it so it was no surprise when I really loved this one as well. This was pretty much your typical tomboy/'one of the guys' girls who want to be noticed as a girl kind of story but had an additional family aspect that really added to the story. Kasie West always seems to write really great characters and this book was no exception.
What Light by Jay Asher - For someone who loves Christmas as much as I do, I rarely read Christmas themed books, so when I heard about this one I was so excited to get my hands on it. This was a perfect book to get me in the Christmas mood and just generally gave me the warm and fuzzy feels. I loved the Christmas tree farm aspect and all the characters holiday traditions but also the story in general was really great. This is one I will definitely try to re-read for many Christmases to come.
A Little Something Different by Sandy Hall - I had my eye on this for a while but it wasn't something I was expecting great things from, I was just intrigued by the concept. I finally picked it up because I wanted something short and I'm so glad I did. This is such an interesting concept as it is told from multiple perspective, none of which being the main characters. It reminded me a lot of Fangirl by Rainbow Rowell, which I also read this year, but with only my favourite parts. This was so unique and I loved it.
The DUFF by Kody Keplinger
- I read this one towards the beginning of the year so, if I'm being honest, the details are a bit hazy. I just remember this being a really fun read. Although there were some more serious aspects, it was just generally fun and I really loved that the relationship was quite true to life and relatable, as I mentioned a bit about in
my review
.
Happily Ever After by Kiera Cass
- It's no secret that The Selection series by Kiera Cass is one of my favourite series, however I was not as much of a fan of the final two books as the original trilogy. Happily Ever After is a collection of the novellas from the original trilogy, so I absolutely loved getting back into the series and revisiting the characters that I fell in love with. You can check out
my review
for more of my thoughts.
City Of Bones by Cassandra Clare - 2016 was the year I finally started The Mortal Instruments series. I know, I'm so behind with reading this series but I did eventually get around to it. I'm pretty sure everyone knows what this is about by now so all I really need to say is this was great! I don't know why I put it off for so long, and I really don't know why I haven't continued with the series yet.

I didn't think I had read many great books this year but it turns out trying to narrow it down to my top 5 was just impossible, hence why this is my top 8. I guess looking back I had a much better reading year than I thought, even if I didn't read very many books, or a lot of 5 star reads. What was your favourite book you read in 2016?

Sophie :)