I have been terrible at sticking to my TBR recently, hence why I haven't posted one for most months this year. I know I won't be reading anything for the first week, which does suck but I'll be busy roadtripping with my best friend so I guess thats acceptable. After that though, I'm pretty sure I'll be doing nothing but reading so I have gone for quite an ambitious TBR, we'll see how well I can do this time around.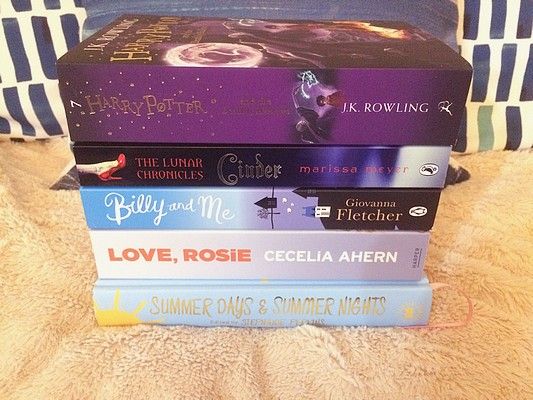 Harry Potter And The Deathly Hallows by JK Rowling
-
I REALLY need to finish the Harry Potter series! Like seriously, it's getting slightly ridiculous that I'm still reading it so I need to get my act together and get to it this month. I've been putting it off after how long it took me to read Half-Blood Prince and I'm nervous that I met end up back in a reading slump. Hopefully I'll bite the bullet and read the last book in July.
Cinder by Marissa Meyer
-
This is a series I really need to get around to starting. I have heard so many great things about this series so it's definitely time I see what the fuss is all about. It sounds really interesting, I mean a Cinderella retelling with a Cyborg main character(!!), so I don't know why it's taken me this long to get to it.
Billy And Me by Giovanna Fletcher
-
I absolutely love Gi, her Youtube is my favourite, but I have yet to read any of her books (despite owning almost all of them) and I feel terrible about it. However, this is definitely changing this month. I have heard loads of great things about Gi's debut novel so I am really excited to get to it.
Love, Rosie by Cecelia Ahern
-
It's no secret that this is my favourite book of all time and I've been wanting to reread it for ages, so now is the time. I'm getting really excited just writing this because I want to jump back into Rosie and Alex's life. I've thrown this into my TBR for the month just in case Deathly Hallows does but me into a bit of a slump, this is guaranteed to get me out of it. Even if I am slump-free, I will still be reading this for sure.
Summer Days And Summer Nights edited by Stephanie Perkins
-
I loved My True Love Gave To Me so much that I very almost screamed when I heard about this, the summer version of that anthology. I am so excited to read this, especially since there are different authors featured in this than the last, including a lot I haven't read anything by. This just seems like the perfect thing to read this summer.
Bridget Jones' Diary by Helen Fielding
-
I have had this on my Kindle for years now and it is about time I read it. I really like the movies and with the new one coming out this year, its kind of the perfect time to read it. I also love light, funny reads for the summer so this is perfect for me this month.
PS I Love You by Cecelia Ahern
-
I have been listening to this on audiobook recently but it always takes me forever to finish an audiobook so I want to make a conscious effort to listen to this during the month. Cecelia Ahern is one of my favourite authors, if not my all time favourite, so I definitely need to read her debut novel.
What do you plan to read in the month of July?
Sophie :)