Well May just flew by! I cannot believe we are already in June and almost half way through the year. I start my next university course in just three months, and even the thought of that terrifies me. But on a more cheery note, I FINALLY had a good reading month! I managed to read 7 whole books in May, which is by far the most I have read in a month this year. I'm glad to finally be back to normal with my reading and I hope this will continue, at least through the summer.
My Life In May...
- I spent a few days at the beginning of the month away at a lodge in the country with my family.
- I official took part in my first readathon - Bout Of Books 16.
- I finally made a start on one of my New Years resolutions by joining a gym.
- I got to spend a bit of time with family I don't often see, including my little nephew.
- I had the joy of seeing the musical Joseph while on it's UK tour, and meeting the lovely cast.
- Some friends and I went to a charity fundraising lunch which was a lot of fun.
- I also got the chance to see the musical of Mary Poppins while it is on it's UK tour.
- I got to see The Tide at one of their 'FanFests' and got to meet the boys, which was great.
- We spent the last week of the month away for another break as a family.
Watched In May...
- Geordie Shore Season 12 - 4/5
- The Lady In The Van - 1/5
- The Descendants (rewatch) - 4/5
- The Last Song (rewatch) - 3.5/5
- Chicago Fire Season 1 - 5/5
- Chicago Fire Season 2 - 5/5
Read In May...
Happily Ever After by Kiera Cass -
With the fifth and final instalment in The Selection series being released in May, it seemed only appropriate to dive back into this world through these novellas. I had already read three of the four novellas, but I did end up liking the ones I had read more the second time around. I also really enjoyed the additional scenes and the other extras. I thought it was a great addition to the series. 4.5/5
Forever by Judy Blume -
I picked this book as my first for the Bout Of Books readathon because its so short, so I assumed it would be a quick read. I did manage to power through it in one day but boy was it a struggle. This book was published in 1975 and you can definitely tell. I did get over the older writing style but I just didn't enjoy the book in general and I had some big problems with certain aspects. 2/5
City Of Bones by Cassandra Clare -
This FINALLY happened! I have been saying for probably well over a year that I am going to start this series but I always pushed it aside, mainly due to the hype surrounding it. Now that I have finally read City Of Bones, I'm glad I did. I really enjoyed the world, the characters and the story. I thought it was a great start to the series and I particularly liked how the world was developed without constant info-dumps. I can't wait to continue with the series. 4/5
The Crown by Kiera Cass -
So The Selection series has now come to an end. It was such a bittersweet moment opening this book, I was so excited to see what happened but at the same time I really didn't want it to end. While I loved the first three books, I wasn't blown away by The Heir, due to the main character Eadlyn, and I did have this issue somewhat in The Crown. Though Eadlyn did redeem herself greatly in the final book, I still didn't love her as I had America, which meant I wasn't in love with the book to the same extent. I also didn't love where the story went but I did enjoy the book as a conclusion to the series. 4/5
Flawed by Cecelia Ahern -
Cecelia Ahern has done it again! This woman can honestly do no wrong in my eyes. Flawed is my first 5 star book of the year, not including rereads, and it is totally deserved. I was nervous about Cecelia Ahern branching out into YA but she can absolutely write YA just as well as she can adult. I loved this story, the world, the characters, everything was just done so well. It was written really well and you could tell how much passion the words were written with. I absolutely loved this book and can't wait for the sequel. 5/5
I Want It That Way by Ann Aguire -
This was a totally on a whim purchase that I pretty much forgot I owned until I pulled it out of my TBR jar. I wasn't expecting much from it but I was very pleasantly surprised, I actually really enjoyed it! I loved the story, the characters and the fact it was a more unique take on the usual NA. I definitely plan to continue this series! 4/5
The New Girl by Tracie Puckett -
I got this as a random free ebook a little while ago and decided to pick it up for the readathon because it's so short. I have pretty mixed feelings about this. I did like it for the most part, it was a fun quick read. However, this involved a student-teacher relationship and I just don't like that at all. I felt very uncomfortable reading about the relationship because of that. So I think if it didn't include that aspect I would have enjoyed it but, unfortunately, I didn't.
2/5
Bought In May...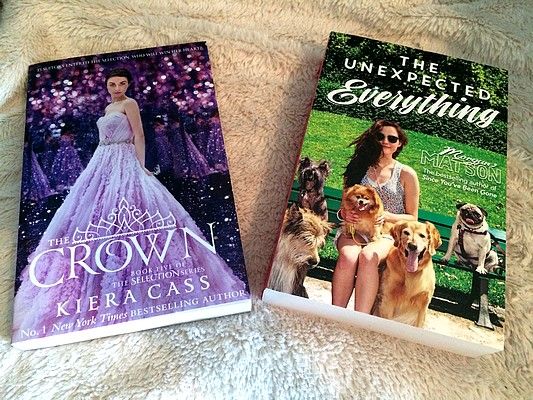 The Crown by Kiera Cass -
Obviously as I talked about this book already it is no secret that I picked up the final book in The Selection series as soon as it was released. I think I've said enough about this one already.
The Unexpected Everything by Morgan Matson -
This was another one I picked up as soon as I could. I read two of Morgan Matson's books last summer and really enjoyed them both so I decided to try out her newest release as well. The main character in this book is a dog walker and the daughter of a politician who's life is changed by a scandal involving her family. It sounds really interesting and I hope to get to it this summer.
Blogged In May...
- I
reviewed
Harry Potter And The Half-Blood Prince by JK Rowling.
- I shared my
haul
from the month of April.
- I
wrapped up
the month of April.
- I shared my
TBR
for the month of May.
- I
reviewed
The DUFF by Kody Keplinger.
- I announced my participation in the
Bout Of Books 16 readathon
.
- I shared my readathon
goals and TBR
.
- I took part in the readathon's
Day 3 challenge
.
- I shared my
updates
throughout the readathon.
Did you read or get your hands on any great books in May?
Sophie :)