So I pretty much failed with reading in general for the last half of 2015, but after a pretty good start to the year I don't think I have done too badly. However, hopefully I will be a bit more successful this year.

Goodreads Challenge - 50 Books
I challenged myself to read 50 books in 2015, having read 40 in 2014, and despite Goodreads only counting 49, I am going to class this as a success. I did technically read 50 books, although one of my rereads (Twilight) Goodreads did not count.
Success - 50/50
Ebook Reading Challenge - Level 2: Bytes - 10 Books
This was hosted by Annette at
Annette's Book Spot
and I actually really enjoyed taking part in this challenge as it definitely encouraged me to read more ebooks. I actually managed to read 10 books, meeting my goal.
Success - 10/10
Books Read:
1. Ignite by Lily Paradis
2. Can't Let You Go by Jenny B Jones
3. Lost & Found by Nicole Williams
4. Nineteen Minutes by Jodi Picoult
5. The Queen (The Selection #0.4) by Kiera Cass
6. Make It Count by Megan Erickson
7. The Distance Between Us by Kasie West
8. Alive Souls: Inception by Elena Yulkina
9. Cabin Fever by Mandy Smith
10. Confessions Of A New York Taxi Driver by Eugene Salomon
TBR Pile Reading Challenge
- 11-20: A Friendly Hug
I participated in this challenge, hosted by
Evie Bookish
, in 2014 and failed miserably so I thought I would try again. I definitely didn't do any better in 2015! I failed miserably once again, reading a total of two books.
Failure - 2/11
Books Read:
1. Nineteen Minutes by Jodi Picoult
2. Vampire Academy by Richelle Mead
Prequel & Sequel Challenge
- 25-50 points: Amateur
This was such a unique challenge, hosted by
Novel Heartbeat
&
Writer Grrl Reads
. The idea of using a points system rather than just a number of books. Though it was a bit complicated to start with, I did eventually get the hang of the points system and was quite successful in this challenge. I managed a total of 46 points, and 13 books.
Success: 46/25 points
Books Read:
1. Allegiant (Divergent #3) by Veronica Roth (12 points)
2. Can't Let You Go (Katie Parker Productions #4) by Jenny B Jones (12 points)
3. Four (Divergent #0.1-0.4) by Veronica Roth (4 points)
4. Harry Potter and the Chamber of Secrets (Harry Potter #2) by JK Rowling (2 points)
5. The Elite (The Selection #2) by Kiera Cass (2 points)
6. The One (The Selection #3) by Kiera Cass (2 points)
7. The Queen (The Selection #0.4) by Kiera Cass (1 point)
8. The Heir (The Selection #4) by Kiera Cass (2 points)
9. Free Four (Divergent #1.5) by Veronica Roth (1 point)
10. Harry Potter and the Prisoner of Azkaban (Harry Potter #3) by JK Rowling (2 points)
11. Harry Potter and the Goblet of Fire (Harry Potter #4) by JK Rowling (2 points)
12. Harry Potter and the Order of the Phoenix (Harry Potter #5) by JK Rowling (2 points)
13. Where She Went (If I Stay #2) by Gayle Forman (2 points)
Total: 46 Points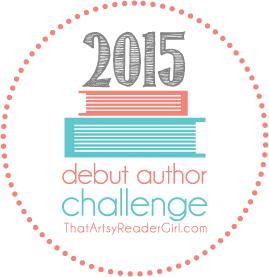 Debut Author Challenge
- 12 Books
I had heard quite a lot about this challenge, now hosted by
That Artsy Reader Girl
, so decided to give it a go. Until this challenge I had never read a debut author on the year of the release, so that was a new experience. Unfortunately I failed miserably at this as well. I read only two books, neither of which I liked all that much.
Failure: 2/12
Books Read:
1. Playlist For The Dead by Michelle Falkoff
2. We All Looked Up by Tommy Wallach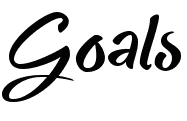 Sophie
has read 0 books toward her goal of 50 books.
Just like last year I am aiming to read 50 books this year. The second half of 2016 could get crazy busy for me so I don't want to push myself too much, especially since there is a good chance I won't even meet this goal. I'll try my hardest though.
Ebook Reading Challenge
I mentioned in my 2015 wrap up that I participated in this challenge last year and really enjoyed it. I definitely read more ebooks that usual and I would really like to keep that up this year so I decided to participate in the 2016 edition as well. I'm sticking will level 2 (Bytes - 10 ebooks) again this year so hopefully I'll manage this one.
1. Bits – 5 ebooks
2. Bytes – 10 ebooks
3. Megabytes – 25 ebooks
4. Gigabytes – 50 ebooks
5. Terabytes – 75 ebooks
6. Empty the Cloud – 100 ebooks
Audiobook Challenge
I gave audiobooks a go for the first time in 2015 and surprised myself with how much I enjoyed them. I would like to continue listening to audiobooks in 2016 so decided to take part in this audiobook challenge to encourage myself to listen to as many as possible. I don't want to put too much pressure on myself so I will just be attempting the first level (Newbie: 1-5 books).
1. Newbie (I'll give it a try) 1-5
2. Weekend Warrior (I'm getting the hang of this) 5-10
3. Stenographer (can listen while multi-tasking) 10-15
4. Socially Awkward (Don't talk to me) 15-20
5. Binge Listener (Why read when someone can do it for you) 20-30
6. My Precious (I had my earbuds surgically implanted) 30-50
7. Marathoner (Look Ma no hands) 50+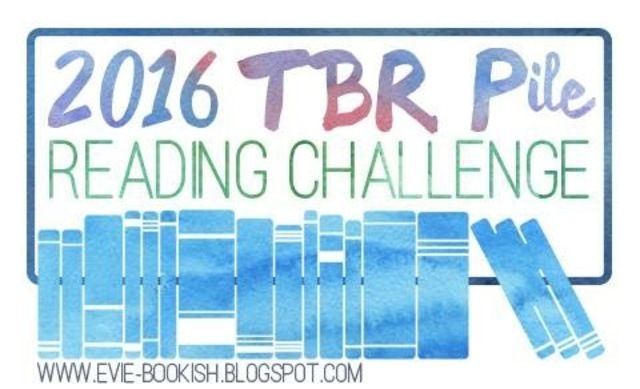 TBR Pile Reading Challenge
I have taken part in this challenge for the past two years now and have failed miserably on both accounts, as I mentioned in my wrap up. I decided to give it a go again and hopefully make it third time lucky. For this year, I plan to use my TBR jar for this which will hopefully result in me using it more often. I'm going to try for level 2 (A Friendly Hug: 11-20) again this year, just as last year, but hopefully with more success.
1-10 A Firm Handshake
11-20 A Friendly Hug
21-30 First Kiss
31-40 Sweet Summer Fling
41-50 Could This Be Love?
50+ Married with Children
Popsugar Reading Challenge
The 2015 edition of this challenge seemed to be pretty popular so I decided to give this year's a shot. This is a little different as it gives a list of 40 categories and challenges you to read a book relating to those categories. This is more of a fun challenge that I won't take too seriously but it will hopefully help me to read books I wouldn't necessarily pick up otherwise.
Finish 5 Series
This is just a personal challenge but I am hoping to finish 5 series this year, hopefully more. I have 5 in mind that I would like to finish but this list might change.
1. Harry Potter series by JK Rowling (Half-Blood Prince & Deathly Hallows)
2. UnWind Dystology by Neal Shusterman (UnSouled & UnDivided)
3. Percy Jackson and the Olympians series by Rick Riordan (Sea Of Monsters - The Last Olympian)
4. Vampire Academy series by Richelle Mead (Frostbite - Last Sacrifice)
5. The Selection series by Kiera Cass (The Crown)
Start 5 Series
I have so many new series that I've been dying to start so I would like to try and start at least 5 new series this year. Again, I have 5 series in mind but I have so many to start that this is very likely to change.
1. The Mortal Instruments series by Cassandra Clare
2. The Lunar Chronicles series by Marissa Meyer
3. The Summer I Turned Pretty trilogy by Jenny Han
4. Shopaholic series by Sophie Kinsella
5. Legend trilogy by Marie Lu
It may seem like a lot of challenges but I hope that these challenges will encourage me to keep reading throughout the year. I will be keeping track of my progress in the challenges page.
Sophie :)