After these past few months I am most definitely needing to go on another book buying ban! Despite being so good during lent, in which I gave up buying books, I have been overindulging just a little recently. That really needs to stop though, I at least need to be staying in single figures next month!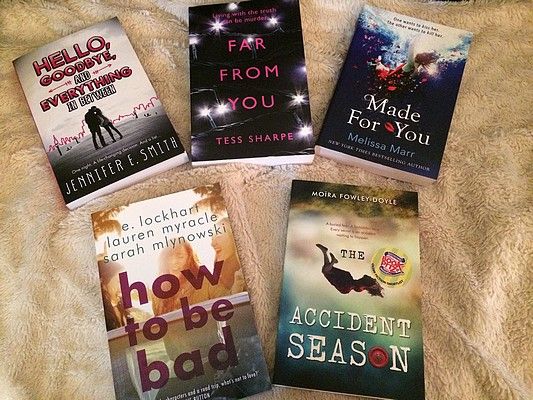 Hello, Goodbye And Everything In Between by Jennifer E Smith
- I've had a hit and a somewhat miss from Jennifer E Smith so I had to give her another go. Spoiler alert: this fell in the first category.
Far From You by Tess Sharpe
- A mystery that everyone seems to rave about, sign me up!
Made For You by Melissa Marr
- Again, a mystery that everyone raves about. I was obviously in this mood during that shopping trip.
How To Be Bad by Lockhart, Myracle and Mlynowski
- This sounds like a fun summer read. It was on my list to check out so when I saw it I picked it up.
The Accident Season by Moira Fowley-Doyle
- Totally on a whim purchase. I had heard some buzz around it and the synopsis intrigued me when I read the back.
What I Thought Was True by Huntley Fitzpatrick
- It was buy one, get one half price so I had to do it. Contemporaries seem to be my thing at the moment.
When We Collided by Emery Lord
- I really enjoyed Open Road Summer so it seems only right to collect all of Emery Lord's other books.
The Art Of Being Normal by Lisa Williamson
- I read a review of this and it just sounded like such an important message, I had to pick it up.
Sleepless In Manhattan by Sarah Morgan
- If it has anything related to New York in the title, it is highly likely I'll pick it up.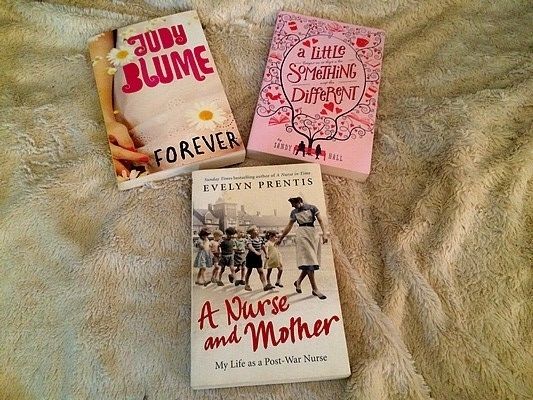 This month I discovered Read It Swap It, a website through which you swap books with other readers. I have completed three swaps through the site already, I think it's great. Here's what I've got so far.
Forever by Judy Blume -
This seems to be pretty popular so I was intrigued, even though I know nothing about it.
A Little Something Different by Sandy Hall
- I haven't heard the greatest things about this but it sounds like such an interesting premise.
A Nurse And Mother by Evelyn Prentice
- I'm off to study nursing in September so these types of books really interest me.
Yeah, I definitely need to cut back on the book buying again! What have you bought recently?
Sophie :)