For the first time since I started blogging that I have had to combine two months into one wrap up! I have had so much going on in the past few months, both good and bad, that I haven't had time or been feeling like doing much reading or blogging. So rather than post a half-assed February wrap up with hardly anything to wrap up, this happened instead.
My Life In February...
- I had my first university interview for my first choice uni, which actually went well.
- I received an offer for that first choice uni and I am so happy about that!
- My mum had to have major surgery so that has resulted in some big changes at home.
- I went to see my favourite Collabro boys on their Act Two Tour in Glasgow.
- I then travelled down to Manchester to see the Collabro boys again in Manchester.
My Life In March...
- I went to see Collabro yet again in Carlisle with some of the best people.
- I got to go and support some amazing gymnasts at the Glasgow World Cup.
- I went to see a production of the Dolly Parton musical 9 to 5, which was interesting.
- For the second time in a few years I got my hair cut short to donate to Little Princess Trust.
- My little puppy had to have an operation! Luckily it went really well and he is completely fine now.
- Lent ended in March and as I gave up buying books I was so happy to see the end!
- I got some lovely new bookcases that I now can't stop admiring.
Watched In February...
- Scandal Season 1 - 3/5
- School Of Rock (rewatch) - 5/5
- Death In Paradise Season 1 - 3.5/5
- Legally Blonde (rewatch) - 4/5
- Blended - 4/5
- 8:46 - 3/5
- The Devil Wears Prada (rewatch) - 2/5
- Inside Out - 4/5
- Sing It On Season 1 - 5/5
- Pitch Perfect (rewatch) - 5/5
- Pitch Perfect 2 (rewatch) - 4/5
- Scandal Season 2 - 4/5
- The Big Wedding - 2/5
Watched In March...
- Scandal Season 3 - 3.5/5
- In Her Shoes (rewatch) - 3.5/5
- Scandal Season 4 - 3.5/5
- Death In Paradise Season 2 - 4/5
- Man Up - 4/5
- The DUFF - 3.5/5
- Elementary Season 1 - 4/5
Read In February & March...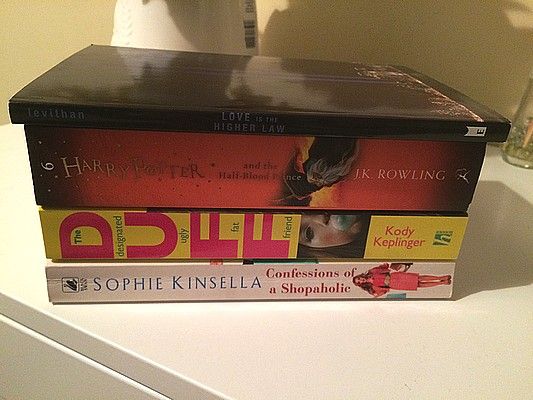 Love Is The Higher Law by David Levithan -
This was the only book I read in February and even though it was so tiny, it was definitely a good'un. This follows three teenagers during and in the months after the 9/11 attacks in New York. It explores how everyone reacted differently to the events and shows how the lives of the three main characters changed and became intertwined. I really enjoyed this book and if you would like to know more about my thoughts you can check out my full review
here
.
4/5
Harry Potter And The Half-Blood Prince by JK Rowling -
THREE MONTHS! That is how long it took me to read this book! Four months!! I started this at the beginning of December and didn't finish it until a week or so into March. It's not that I didn't enjoy this book, I really did, I just didn't enjoy it as much as I have the previous books. I struggled to stay interested as the plot was slower paced and it seemed to be more informative that action-packed like the previous books. I had also been spoiled for the horrible, sad thing that happens so I didn't find it particularly horrible or sad. 3.5/5
The DUFF by Kody Keplinger -
I had been wanting to read this for so long and then I got the movie for Christmas so the pressure increased. I decided after the Half-Blood Prince I needed something fun and easy so I picked this up. I was so surprised by how much I liked this book! I had heard mixed things but I thought it was a great, fun read. I loved both Bianca and Wes and the plot seemed so much more realistic to me than that of the typical YA contemporary love stories. It did take me a little while to get into, which lowered my rating, but I definitely enjoyed this book. 4/5
Confessions Of A Shopaholic by Sophie Kinsella -
This was possibly the biggest disappointment of my reading in the past few years. Everyone raves about this series and how much they love Sophie Kinsella. Now, I don't doubt that Sophie Kinsella is a great writer but I absolutely hated this book. I couldn't stand the main character and as someone whose reading is very character-driven, this was a major issue for me. I just couldn't handle the stupidity of the decisions she made throughout the story. The only thing that improved matters slightly was the few parts that I found funny. 2/5
Blogged In February & March...
- I
reviewed
Love Is The Higher Law by David Levithan.
- I
reviewed
The Geography Of You And Me by Jennifer E Smith.
So that was my mega wrap up of February and March. How has your reading been going so far this year?
Sophie :)