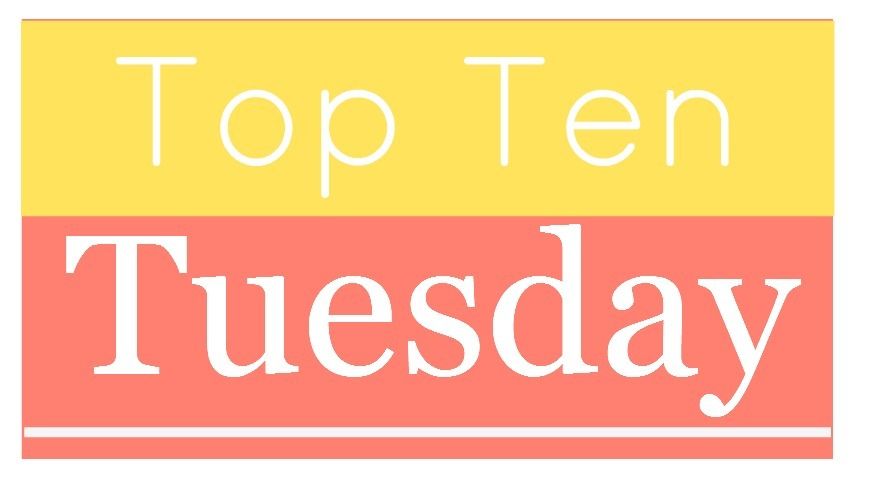 Top Ten Tuesday is an original feature/weekly meme created at The Broke And The Bookish. Lists galore, I can think of nothing better!
I know this is a day late (oops!) but these things happen. This week's theme is a Valentine's themed freebie so I decided to share my Top Ten OTPs. I have so many favourite book couples that it was hard to choose a favourite ten, however I did manage to narrow it down. In no particular order...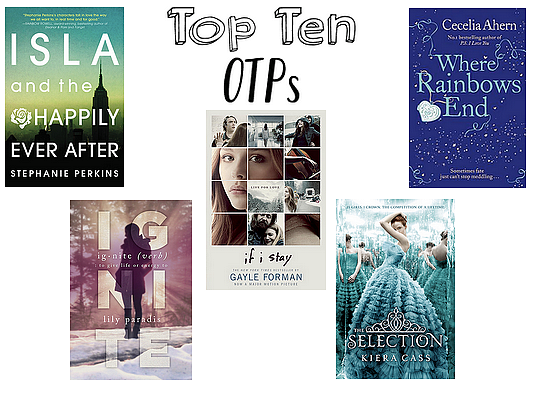 1. Isla & Josh from Isla and the Happily Ever After by Stephanie Perkins
I adore Isla and Josh, they are probably one of my ultimate OTPs. Isla is so much like myself that its a little bit embarrassing to admit, and Josh is just such a great guy. I think these two are the most adorable, genuine couple.
2. Lauren & Dean from Ignite by Lily Paradis
I forgot how much I loved Lauren and Dean until I reread Ignite back in January. They have such an unusual story and came together in a more unconventional way, which I think makes me love them more. The way they support each other in the hard times is lovely.
3. Adam & Mia from the If I Stay duology by Gayle Forman
I was not a fan of Adam and Mia in If I Stay but completely changed my mind about them in Where She Went. I absolutely adore them in Where She Went and loved that it shows real relationships aren't perfect, everyone has the problems they must work through.
4. America & Maxon from The Selection series by Kiera Cass
I absolutely loved The Selection series when I first read it and the relationship between America and Maxon was one of the reasons for that. I loved them straight away so from day one I was willing Maxon to pick America. I even love them as grown adults in The Heir, despite my dislike of their daughter.

5. Rosie & Alex from Where Rainbows End by Cecelia Ahern
As Where Rainbows End is the book I claim to be my favourite of all time, it is no surprise that Alex & Rosie are up there with my all time favourite OTPs. Even though their story is told in the form of letter, emails, etc, the connection between the two was undeniable. It was also very unique in this book to see the relationship develop over the course of their lives, from around five years old to around fifty.


6. Tris & Four from the Divergent series by Veronica Roth
As soon as Tris first met Four in Divergent, I was in love with them as a couple. Even though Four was pretty horrible to Tris for a lot of their initial interactions, we all knew there was some connection there just waiting to be acknowledged. I definitely prefer their relationship in Divergent, as I had some issues with the way Tris in particular was acting in the later books. I do love the two of them together though.
7. Q & Margo from Paper Towns by John Green
These two were the reason I loved Paper Towns so much. Q and Margo are such quirky, unusual characters that you can't help but love, and despite being so different, they are drawn together. I spent pretty much the entirety of the book longing for these two to get together and live happily ever after.
8. Caymen & Xander from The Distance Between Us by Kasie West
I absolutely love these two as this relationship shows that coming from different backgrounds or lifestyles doesn't matter in the grand scheme of things. Though Xander comes from money and Caymen does not, they try not to let that define or affect their relationship, even though Caymen has her doubts. They are also such different personalities, with Caymen being such a great quirky character, so are more evidence of the saying opposites attract.
9. Georgia & Dave from the Confessions of Georgia Nicholson series by Louise Rennison
Throughout this series I changed my mind constantly on who I wanted Georgia to end up with but I always ended up coming back to the same boy, Dave The Laugh. I'm all for being yourself in a relationship and the books in this series seemed to be full of Georgia changing things about herself to please the guy she liked. The only person she could truly be herself around was Dave and that's why I loved the two of them so much together.
10. Katniss & Peeta from The Hunger Games series by Suzanne Collins
I was unsure about whether or not to include Katniss & Peeta in this list as, to be completely honest, I really didn't care who Katniss ended up with while reading this series. I loved both Peeta and Gale so would not have been disappointed either way. However, if I had to choose, gun to the head kind of situation, I would probably have to go with Peeta. I think this was sealed by their interactions in Mockingjay when Peeta was trying to determine what was real and what was not, but I did love them together throughout the entire series.
Who are your ultimate OTPs?
Sophie :)