I haven't given myself a set TBR since I think August of last year due to my lack of reading. I decided to start them up again for February in the hope that I will make more of an effort since I have a TBR written down. Whether this will work or not, I'm not too sure. I've decided not to be too ambitious and stick to just 5 books, one of which I am around half way through and one very short book.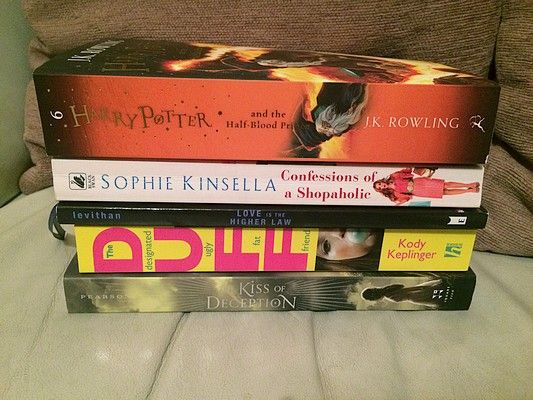 I've been reading the sixth Harry Potter book since the beginning of December and am still only about half way through, not because I'm not because I'm not enjoying it but just because I have had very little time to read it. I have been enjoying finally reading this series ad since I didn't manage to finish it in 2015 as I had planned, I aim to finish it by the summer of this year, which is definitely possible. I really hope to be able to finish this in February.
One of my goals for 2016 is to start 5 new series and one that I would like to start is the Confessions Of A Shopaholic series by Sophie Kinsella. I have heard so many great things about this series and for that reason I have been collecting the books in the series any time I see them. I have heard this is a very quick, funny read so I am hoping this will get me enthusiastic for reading again.
This is my very short book that I hope will be an easy one to get through in one sitting. Although easy may not be the best word, considering this book is set around the events of 9/11 and follows three main characters as they deal with 9/11 and attempt to cope afterwards. Since visiting Ground Zero and finding out more about 9/11 (most of which I was too young to really take in at the time) I am quite interested in the tragic events. Hopefully this will be a powerful, interesting read.
I pulled this one out of my TBR jar for this month which I am very happy about as I got the DVD for Christmas and can't wait to watch it, but obviously I need to read the book first. I probably know less than most about this book since it's so popular, all I know is it is about a girl who is referred to as the DUFF (designated ugly fat friend) by the boy she hates, and then ends up in some kind of strange relationship with him. I am looking forward to finding out what more there is to this story.
This was one of my Christmas presents this year and one of the books I have been wanting to read for so long. I decided to try and read my Christmas books quite soon as I have such a bad habit of buying/getting books and leaving them on my shelf for so long, even though I was desperate to read them. This was one of my most anticipated books as it is a little out of my comfort zone. It is about a princess who flees on her wedding day, only to be followed by two men - one the prince she left at the alter, the other an assassin sent to kill her. I've heard such great things about this book so I'm excited to get started on it.
What are you hoping to read in February?
Sophie :)